Product Description
Our durable blue foam corner protectors for shipping items with sensitive surfaces are supplied in economical packs of 500. The round-cut pieces measure 100mm in diameter x 30mm thickness, offering a reliable cushioning and protective packaging solution.

Made from soft but hard-wearing low-density polyethylene material, this foam protection is suitable for packing or posting a wide range of goods, but notably counter tops, white goods and items of furniture with lacquered or special-coated surfaces.

Corners are the most vulnerable areas of any item and can easily suffer from impact damage, but you can be assured that our foam packing corners give vital 360 degree protection in addition to guarding from scratches.

To protect your items, attach the packing corners with tape or stretch wrap before completing your packaging as usual, for example with bubble film, paper blankets or pallet wrapper. You may also wish to use edge protectors. Our blue foam corner protectors are strong and reusable, further saving you money.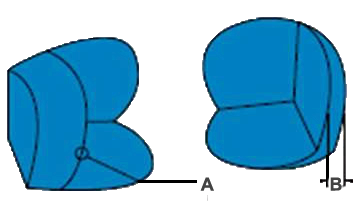 Dimensions

A
(Diameter)


B
(Thickness)


Per Pack

ABRICORNER 100/30
100mm
30mm
500
Features
Size:
100mm diameter / 30mm thickness