Grey Mailing Bags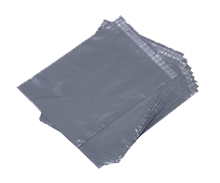 Our lightweight grey mailing bags come in 10 sizes, including extra-large posting bags, to give you the options for packaging varied sizes of items. Compared to paper envelopes, plastic mailing bags are much stronger. Made from top quality polythene, they are designed to ensure the protection and security of your items in transit. The self-seal postal bags resist bursting, tearing and punctures, are waterproof and the colour shields the contents from view during mailing. 
These grey mailing bags are the ideal postal packing solution for many different items, including magazines, brochures, clothes – even boxes – and other non-fragile direct mail goods.
Whether for business or personal needs, our poly mailing bags are already becoming a popular mailing staple thanks to their versatility, reliability and cost-effectiveness. The grey mailers are made from top quality polythene, which means they are stronger and more durable than the conventional paper envelope. Offering you a superb waterproof packaging solution, these plastic posting bags are also resistant to punctures and tearing. They have a tamperproof feature with their self-seal adhesive strip giving you all-round security and protection, while the surface is easy to write on or stick labels on.
Convenient to store and very easy to use, our grey polythene mailing bags are among the lightest of packaging choices, which saves on the postage. They are also among the cheapest packing solutions based on their strength and flexibility. Our grey mailing bags come in a range of 10 sizes and are ecologically sound because they do not leave any harmful residue.