Grip Seal Heavy Duty Polythene Bags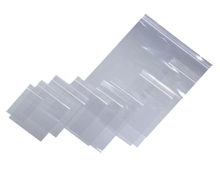 Our heavy duty resealable polythene bags provide an economical solution to countless packing applications, whether for mailing, displaying or storage. Made from heavyweight and durable polythene, the grip seal bags ensure that your products are protected from moisture and dirt without having to use staples, tape or heat sealers. They stay firmly shut when sealed but are easy to open.
A highly efficient packaging method, our resealable polythene bags are perfect for selling, storing or shipping items in a presentable and organised way.
Our heavy duty resealable polythene bags give you the choice of 6 convenient sizes, ideal for use in wholesale and retail outlets, mail rooms, workshops, offices or homes. Bag sizes are shown above with internal dimensions: width (opening) x length (grip seal to bottom of bag)