Edge Protection – Foam L Profiles
This cost-effective edge protection is highly popular in many industries thanks to its flexibility, adaptability and strength. It is extremely easy to apply. Made from top quality environmentally-friendly and non-scratch foam, it can be used in various ways as protective packaging. It is the perfect foam edge guard solution for delicate or sharp flat objects, especially large items, and block-and-brace void fill in boxes and cartons.

Consisting of an L-shaped foam profile, our edge protection is supplied in packs of 2m lengths, which you can cut if desired with scissors or a knife. Choose from 2 sizes to fit the thickness of the items to be protected, such as glass, shelving, worktops, furniture etc.
The closed cell structure of our L-profile foam edge protection provides strength and rigidity combined with a suppleness that enables it to conform easily to the shape of the product you are wrapping. The material is light, non-abrasive, odour-free and chemically-neutral, so is ideal for using with sensitive, powder-coated or biomedical products. It offers clean, hygienic and completely recyclable packaging.

Choose from 2 widths, accommodating most edges. They are both supplied in packs of 2m lengths, which can be simply cut as required:
Dimensions
A
B
C
Metres Per Pack
Lengths Per Pack
BLUEFOAM AB L50
50mm
50mm
9mm
480m
240
BLUEFOAM AB L75
75mm
75mm
10mm
210m
105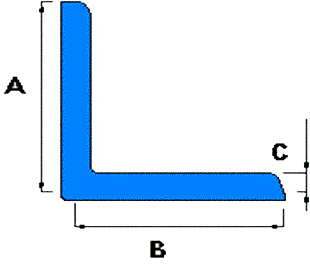 The foam is easy to mould around the edges of items, even around corners, and can be taped down or covered with stretch film ready for transport. For instant corner protection you may wish to use our handy foam
corner protectors
.
Major advantages of L-profile foam edge protectors over bubble wrap or paper wadding are their time-saving application and the resilience which makes them reusable. You can also use them instead of air cushion packaging around goods inside cardboard boxes.
This convenient
edge protection
is a must for any business involved in the distribution or storage of corners / edges which need protecting such as furniture like tables, sideboards etc.