Mail Tuff Polythene Mailing Envelopes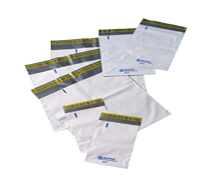 Mail Tuff polythene envelopes are often the preferred mailing choice for both personal and business postal needs as they are lighter and stronger than conventional paper envelopes. Our white Mail Tuff polythene mailing bags are easy to use, with a permanent self-adhesive strip and write-on surface for the address, and come in six sizes supplied in packs of 100. They are economical too, starting from just 9p per polythene mailing bag if buying in bulk.
Waterproof and resistant to punctures or tearing, you'll find our self seal polythene envelopes are ideal for posting and shipping confidential, bulky or non-fragile items.
Our polythene mailing envelopes will save you time in packing and money on postage and shipping because they are stronger, lighter and more convenient to use than conventional paper envelopes.
Specially designed to protect the contents, our Mail Tuff polythene envelopes are ideal for posting bundles of papers or items of fabric as they are strong enough to be filled to capacity without bursting and light enough provide a mailing solution that's economical.
It can be an economical way to send out a marketing initiative, or lumpy mail, as it does not appear to be a mass mailer. Otherwise why not use our
coloured bubble envelopes
which are great for grabbing attention, and without doubt will be opened.

Our polythene mailers stand up to wet weather and will resist punctures and tearing. Their peel and seal feature makes packing painless and opening easy while at the same time providing a secure tamper-evident closure.
Choose from six sizes, from a handy 165 x 240mm to a roomy 450 x 525mm, and you can rest assured you're not harming the environment as our
Mail Tuff polythene envelopes
leave no harmful residue. An added bonus is that they can be used over again if next time you seal them with one of our
adhesive tapes
.