Packaging for Schools
We have a wide range of packaging supplies for schools, responsibly made from biodegradable materials that ensure reliability, sturdiness and manageability. Many of these packaging materials are ideal to use with children in classrooms to help keep the school tidy and organised and for various activities such as craft classes.
All of our packaging materials and equipment is good value and cost-effective, a top priority for schools. Equipment you may need in the office or classroom includes recycling bins, cardboard boxes, black sacks, archive boxes, adhesive tapes, tape dispensers and glue guns, answering many different school packaging requirements.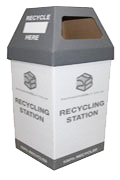 Our cardboard recycling bins are eco-friendly, smart and strong way to keep classrooms rubbish-free, as well as being invaluable in the school kitchens and office. Supplied flat-packed, this easy-to-assemble school waste solution will teach pupils to throw their away rubbish responsibly. The bins are easily portable, with easy to use angled openings. As recycling programmes are highly encouraged in school these days as part of their social responsbility these bins will help speed up segregating recyclable items, such as paper and plastic in the class, by vending machines and in the staff room, which can include additional items such as glass, printer cartridges etc.
Aside from being convenient, our recycling bins are smart and presentable, which makes them perfect for use at school events such as exhibitions and sports days.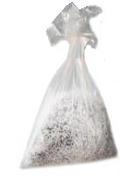 Clear Refuse Sacks
Our clear plastic sacks are perfect to use with our cardboard recycling bins, especially when you need your contents to be visible for easy monitoring. The perfect solution if you want to enhance or even simplify your current recycling scheme.
Our clear sacks are lightweight, yet strong and secure, and are perfect for a whole range of applications. Ideal for helping you to keep your school tidy whilst encouraging active recycling measures within the school.
Made from 120 gauge transparent polythene which itself is recycled, measuring 18x29x39ins, our clear refuse sacks are supplied in convenients packs of 50.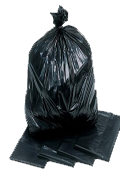 Black Sacks / Refuse Sacks
Our black sacks, also known as refuse sacks, are great for everyday cleaning applications on school premises. Use them to dispose of wet or heavy rubbish or as liners for the cardboard recycling bins.
These environmentally friendly black sacks are made from recycled polythene film with low density which is guaranteed to be very strong and durable. They are easy to manage because they are light and are supplied in two varieties: premium quality and heavy duty. The black sacks are ideal for clearing out at the end of term, both inside the school buildings and out in the school grounds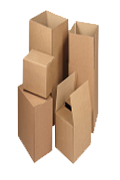 Cardboard Boxes - General
Our general cardboard boxes come as single- and double-wall boxes. They make an ideal solution for storing and packing a wide range of objects including books for school or art materials for children in craft classes.
The economical single-wall cardboard boxes are sturdy enough to keep their shape even when fully loaded or tightly packed, while the double-wall cardboard boxes, being made from a superior corrugated cardboard that's twin-fluted, are ideal for packing heavy and fragile items.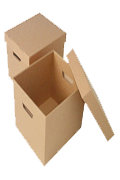 Cardboard Archive Boxes
Whether you need to organise school records, publications or simply require storage for craft materials in craft classes, our archive boxes will be a convenient solution.
Designed to make your storage and packing straightforward, these strong and durable boxes with either separate or hinged lids are made of high-quality materials to ensure reliability.
Our archive storage boxes are perfect for storing books and even school projects. And because they are very sturdy, they are easily re-usable. Choose from the different sizes of our archive boxes for your specific needs.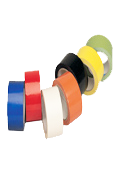 Adhesive Tapes
We have a wide range of adhesive tapes to meet various adhesive needs in school. We have general use tapes in vinyl or polypropylene that are ideal for everyday school packing and packaging applications. You are bound to find a variety of creative uses for our coloured adhesive tapes which children in classrooms will appreciate thanks to their eye-catching colours: blue, red, green, yellow, orange, black, and white. These adhesive tapes, featuring a semi-gloss finish, are great for colour-coding in classroom activities. Our double sided tapes, on the other hand, will delight children taking up craft classes because of their versatility and flexibility – they so easy to use! And don't forget hazard tape, a convenient solution for marking out floor areas.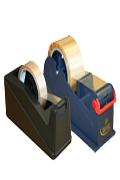 Tape Dispensers Unlike using scissors, knives or, worse, your teeth, our tape dispensers allow you to cut adhesive tapes more quickly and neatly. More importantly, especially in school and classroom applications, tape dispensers are generally safer to use. With a pull-and-cut feature, a desktop tape dispenser will prove to be a very useful piece of packaging equipment, offering you clean and even cuts, and with proper instruction and guidance, pupils in class can manage to use it on their own.

Flexible and durable, this packaging equipment comes in two widths: 25mm and 50mm widths to cater to most types of adhesive tapes. The 25mm tape dispenser is ideal for busy classrooms: it's made from durable plastic that will still resist impact even if dropped or thrown. The 50mm desktop tape dispenser is made from metal. Our dispensers have a sturdy non-slip rubber base.


Choose from our range of school packaging materials for affordable packaging supplies that are tough, reliable and easy to use. Our recycling bins are ideal for promoting recycling projects in school, offering a smart solution to keep classrooms clean and rubbish-free. They can also be used with our black sacks to serve as bin liners.
We provide general-use cardboard boxes in single-wall and double-walls for the school's packaging and storage needs. To store books, CDs and other instructional materials, you can also choose our archive boxes that are designed especially to keep the contents free from dust and dirt. If you need to seal these boxes tightly, choose from our wide choice of adhesive tapes – and don't forget a desktop tape dispenser, a crucial piece of kit in every office. And for craft classes' activities, our glue guns will prove to be a perfect choice. Most of our packaging supplies are environmentally friendly, being recyclable as well as being made from recycled material. Our packaging materials will sure make life much easier in school, for office staff, teachers and their pupils.