Medium Duty Polythene Bags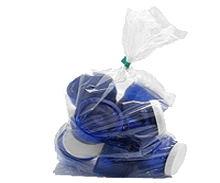 Our medium duty polythene bags are suitable for many different packing applications, including domestic, commercial and industrial applications. Our polythene bags are strong and versatile, handy to store and convenient to use. Manufactured from high quality material and available in 11 sizes, you can be assured that our medium weight plastic bags will cater for all your packaging needs and requirements.
The high clarity feature of our plastic bag makes sorting your packages quick and straightforward. With its unsealed top, our clear plastic bag is easily secured with a bag tie,
tape
or with our
heat sealer
. Bag sizes stated are internal dimensions; width (opening) x length.
Versatile and easy to use, our medium duty plastic bag is the ideal solution to all your packing needs. It is perfect for medium weight objects, protecting them from dust, moisture and dirt while they are being stored or transported.

Made from 200-250 gauge clear polythene, the plastic bags are sturdy, welded at the bottom of the polybag, and make a good choice for affordable protective wrapping. The high clarity of our polythene bags simplifies sorting or grouping together packages. This feature of our clear plastic bags enables you to check on the packs every now and then without having to open them.

Medium duty polythene bags are available in 11 different sizes, ranging from 4x6ins (10-15cm), measured width by length, to 24x36ins (61x91.5cm):
4 x 6ins (10 x 15cm)
6 x 8ins (15 x 20cm)
7 x 10ins (17.8 x 25.4cm)
8 x 12ins (15 x 30.5cm)
9 x 12ins (17.8 x 30.5cm)
10 x 12ins (25.4 x 30.5cm)
10 x 15ins (25.4 x 38cm)
12 x 15ins (30.5 x 38cm)
15 x 20ins (38 x 50.8cm)
18 x 24ins (45.5 x 61cm)
24 x 36ins (61 x 91.5cm)
Our recyclable medium duty
polythene bags
have unsealed tops so you can quickly insert the contents and seal with a tape, tie or bag neck sealer. You can also use any of our
heat sealers
for additional security.