Jiffy Padded Envelopes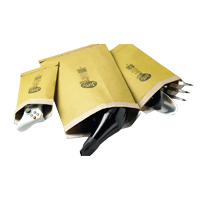 Considered to be among the cheapest padded envelopes, our popular Jiffy envelopes are top-class padded mailers in 10 sizes, giving you all the reliability you expect from the original padded bag. Made from high quality gold kraft paper, filled with macerated paper, our padded mailer envelopes resist tearing and punctures. They also feature a double-glued bottom flap and four-fold corners so you can be assured of your package's safety.
The self-seal padded mailing envelopes are ideal for the economical simple packaging and posting of CDs, DVDs, small books, games, soft toys, manuals, spare parts, video tapes, documents, etc.
With a self-adhesive strip for quick closure, our reliable padded mailing envelopes cater for the packaging of many different items as they are available in 10 different sizes from 105x229mm to 442x661mm. Quick and easy to use, our Jiffy padded envelopes are ideal for a busy mailroom or packing department, perfect for both high-volume and individual mailing.

Being lightweight, the padded envelopes save on postage costs, yet they are also tough and rugged, offering maximum protection to the contents. Made from premium gold kraft paper with macerated paper filling, you'll find our padded mailers are so convenient for posting fragile items such as small parts, DVDs or video tapes. Strong and durable, Jiffy padded envelopes resist punctures and tearing and are further strengthened by four-fold corners and a double-glued bottom flap. The self-seal closure is tamper-resistant, too.

Our Jiffy padded envelopes come in 10 sizes, answering most of your mailing needs:

·105 x 229mm
·135 x 229mm
·165 x 281mm
·195 x 280mm
·195 x 343mm
·225 x 343mm
·264 x 374mm
·295 x 458mm
·341 x 483mm
·442 x 661mm