Customised Products
Our custom packaging solutions are especially beneficial to start-up businesses because bespoke packaging boxes and/or custom printed packaging help establish brand names and credibility. Not only does customised packaging project a professional image to customers, it is also an inexpensive yet highly effective form of advertising. With your business name and logo printed on custom made packaging boxes, tapes and labels, you will really catch the eye. Custom packaging design gives you a great opportunity to ­make a statement whether you are a new or established company. And don't forget cardboard boxes and cartons can be tailor-made to the required size and shape.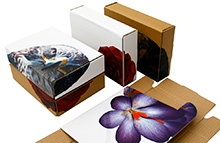 Customised Boxes
Boost your company's identity and reputation with our custom boxes. Following your own specifications for shape, size and design, custom made boxes offer the ideal custom packaging solution for your business. Since they provide brand recognition, customised boxes are a cheap but effective form of advertising.
We can print using various colours, giving you more control in your boxes' design. Your bespoke packaging boxes can be simple black and white or loud and eye-catching with colours to fit your brand. Don't forget to check out our FEFCO page, where you will find a wide range of box styles which can all be customised.

Customised Adhesive Tapes
Make your packages stand out with customised packaging. Our customised tapes will market your company while allowing your customers to identify your parcels quickly. Custom packaging tape, which include texts such as "HANDLE WITH CARE" and "FRAGILE" helps safeguard your packages by sending caution messages loud and clear to handlers.
This form of custom printed packaging is a great marketing tool – it's an economical way to advertise your business while giving products a more professional look. Adding your logo or business name to your packing tape builds client confidence in a well organised, top quality company or organisation.

Customised Labels - Type, Shape and / or Printed
Customised labels are an excellent way to enter the world of customised packaging design, especially when not using bespoke packaging boxes. Self adhesive labels are a great form of creative packaging: firstly, we offer several kinds, including stock, sheet, digital, roll, and fan-fold bespoke labels, all perfect for inventory and shipping.
Next, you can specify permanent, extra-permanent or peelable. Then, if you require, you can have your logo and business details printed on your customised labels, too. So as well as being a practical form of custom shipping packaging, the labels also serve as a cheap and effective marketing tool.
Contact us to discuss what you want for your customised products, including quantities and specifications: we will assist you with advice and ideas for custom design packaging and for the shapes and sizes of any boxes or labels required for all your custom packaging.
Our custom cardboard boxes, custom printed tapes, and custom labels offer you all the flexibility you need for many different applications and requirements. Whether you need them for custom packing or storage, we can help you find the solution for many different kinds of creative packaging. Use bespoke packaging to establish a certain look or brand for your company or products, or to give a top quality professional appearance to your packages, thus adding more credibility to your business. Customised boxes, tapes and labels are the cost-effective way to do the job. Additionally and even more importantly, use custom shipping packaging to reinforce the safety and security of items in transit.