Customised Cardboard Boxes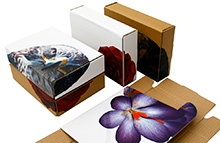 Customised cardboard boxes are ideal for helping you build up the reputation and brand recognition of your company – and we will work with you to provide just what you need
A modern custom made box, designed and sized to your exact requirements and, if you like, printed with your logo or artwork, will give your customers extra confidence in the quality of your products. No wonder custom packaging is considered to be a perfect form of low cost advertising!
Your artwork or logo can be printed in black or in colours to fit your branding.  If it's a plain box you are looking for, to a bespoke size or style - we can help, with boxes die cut to your specification.  Choose from corrugated cardboard in brown or white, or solid board in a range of colours.
Our custom made boxes have guaranteed strength and durability. They are made from a combination of pure and recycled material, but can be made from 100% recycled material on request.
Our custom packaging solutions come in various forms depending on the products you intend to pack and, of course, your market. If your parcels are to be sent by mail, a sturdy custom packing box or carton is a must. A wide range of corrugated or solid boards are available for custom-made boxes, and we can print on them your logo or artwork, in any size, with eye-catching print quality.
Whether it's a stunning image or basic logo, our digital printing technology will make your boxes stand out. There's no minimum order for this service, and we can produce your bespoke design from your jpeg or pdf file. This makes our customised cardboard boxes perfect for both small and large businesses.
The managers of any successful organisation would say that if you're going to make it in the business world you must be able to establish a name, especially with your target customers. There's no doubt that customised cardboard boxes / cartons will give you that edge. It's one of the best marketing tools, helping boost the credibility of you and your business.