Plain Resealable Polythene Bags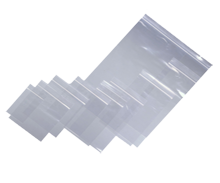 Our clear resealable polythene bags / grip seal bags are made of transparent polythene with a grip seal that ensures the protection of the contents from moisture and dirt. The grip seal bag is an efficient form of packaging that eliminates the need for twist ties, staples or heat sealers. Reclosable self seal bags are simple to use, being easy to secure and quick to open when required.
This standard resealable poly bag is ideal for lighter items and is available in 19 different sizes as shown below, measured internally by width (opening) x length (grip seal to bottom of bag).
You will be sure to find a size to suit your needs as our clear plastic resealable bags range from just 1.5ins x 2.5ins (38mm x 64mm) to a roomy 15ins x 20ins (390mm x 508mm).

Our plain self seal bags provide an economical and attractive solution to a wide range of packaging and storing applications in the warehouse, mail room, shop, office or home. Ideal to be used in long-term archiving, keeping the contents clean and dry. You have the added bonus that the grip seal keeps the bag tightly shut yet allows you to access the contents easily whenever you want – and without messing up the bag.
Supplied in packs of 1,000, our standard plain resealable plastic / polythene bags (grip seal bags) costs from just £5.50, making them a highly economical option for the volume user.