Plain Self Adhesive Pouches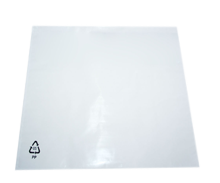 Our plain self-adhesive pouches provide a reliable solution for safely securing important documents and paperwork to boxes and packages. Also ideal as shipping labels, these convenient document wallets are easy to use with a self-adhesive peel-off which, adheres firmly to the package while in transit. Made of clear polythene, the self-adhesive pouches allow you to identify their contents easily without having to open them.
These shipping envelopes are available in 4 different sizes. They are waterproof and resistant to tearing, so you can be sure of the protection of your important documents.
Our self-adhesive pouches will save both you and your customer's time and energy as regards sorting invoices and packing slips that accompany packages. Attached firmly to the outside of the packaging, these shipping envelopes can also be used to hold warranty information, operating instructions, manifest logs and product manuals. They are ideal as shipping labels too, if required, as addresses can be seen clearly through the plain clear polythene.

A convenient and reliable solution, our documents enclosed wallets are invaluable in the mail order industry and other busy packing departments.

Our packing list envelopes are highly protective: strong, waterproof and tear-proof. Choose from our 4 available sizes: 113 x 100mm (A7), 158 x 110mm (A6), 225 x 165mm (A5) and 328 x 235mm (A4).

The peel-off backing of these self-adhesive pouches easily adheres to clean flat surfaces which include cardboard, glass, wood, metal and even stretch film, firmly protecting the contents throughout the shipping process.