Eco-Friendly Single Wall Cardboard Boxes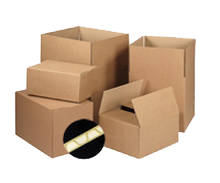 Our
single wall cardboard boxes / cartons
provide an ideal solution for storage, packing & shipping a variety of objects. Made from a cardboard with a single flute layer and recycled Kraft outer, our single wall cartons are strong and sturdy enough to keep their shape even when tightly packed together or fully loaded.

The boxes are made from 100% recycled materials and are 100% recyclable and biodegradable. All boxes are supplied flat. Sizes shown are the internal dimensions of the box once constructed, and in the order of LENGTH x WIDTH x DEPTH.
We have a host of packaging products to assist with your packing from a large choice of voidfill solutions to packing tape, marker pens etc.

Single walled cartons are used extensively throughout all sized businesses for packing, storage and mailing boxes and in the home for general packaging and removal boxes.

Best for packing or storing a wide range of different sized objects, our single wall boxes will help with the challenges of packaging. An all-around box, the single wall boxes / cartons are economical, supplied flat for a fast and easy assembly. They can be used over and over again!