Printed Document Enclosed Wallets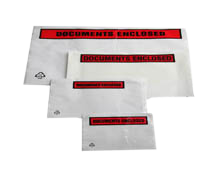 Our printed document enclosed wallets are suitable for holding a range of documentation such as invoices, packing slips and warranty information. These self adhesive pouches have the words
"Documents Enclosed" printed in black on a red background to draw the attention of customers to the contents. The protective pouches have a peel-off backing which sticks easily to a variety of clean and flat packaging surfaces.
Made of clear polyethylene film, the strong shipping envelopes are tamper-proof and protect paperwork from moisture and dirt.
Our printed document enclosed envelopes come in 5 different sizes.
Ship important documents such as invoices, customs information etc., together with your packages quickly and securely with our printed documents enclosed envelopes! Supplied in packs of 1000 or 500 (A4 size), the documents enclosed envelopes are exceptional value, costing from under 2p each. Printed in black, the text "DOCUMENTS ENCLOSED" on a red background will quickly grab the attention of your customers. The transparent adhesive plastic pockets can be used as excellent shipping labels as well as making it easy to identify the contents of the package without opening it.

These packing list envelopes adhere well to most flat surfaces like cardboard, boxes, wood, metal and stretch film, thus ensuring that your valuable documentation stays with its corresponding package. The self-adhesive pouches come with a peel-off backing so are simple to apply. Tough and reliable, our waterproof document wallets will not rip or tear easily, safeguarding your paperwork until it reaches its destination.

Our printed documents enclosed wallets come in 5 different sizes: 113 x 100mm (A7), 158 x 110mm (A6), 225 x 165mm (A5), 328 x 235mm (A4), and 225 x 122mm (DIN LONG).