Double Sided Sticky Tape / Tissue Tape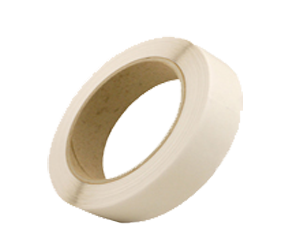 Our double sided adhesive tissue tape has many general uses but, as it is so fine and yet strong, comes into its own for craft projects and art applications in particular - a superb alternative to glue.
Double sided sticky tape is clear and goes on without any fuss and adheres well to surfaces that are dry, smooth, and clean.

Adhesive tapes double sided are great for various office, domestic and packaging applications. They can be used to mount lightweight objects such as photos conveniently, and our double sided mounting tapes also come in very handy for adhesive applications.
Our double sided tissue tape comes in conveniently sized 50m rolls supplied in packs of 6, and is available in three widths - 12mm, 25mm and 50mm.
Our double sided adhesive tape provides a quick, clean and simple solution for art projects and other related uses where you'll find it's preferable to glue thanks to its no-fuss adhesive application.

First you tear/cut of the desired length of tape, and then stick that in place. You then peel off the protective layer, which exposes the other side of the tape for the other item.
The best thing about our strong double sided sticky tape is that it is completely unnoticed when used. It is specifically made to give a defined bonding to lightweight objects and, with both sides of the tape having the same strength of adhesive, you can be assured of our double sided mounting tape's quality performance.

Use it on your home, school, and office, and experience the flexibility and versatility of our double sided adhesive tape.