Antistatic Aircap Bubble Bags - Self Seal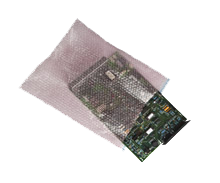 Save time and money with our anti static bubble bags! Made from special anti-static Aircap bubble film, our ready to use bubble pouches are designed to prevent static build-up and electrostatic discharge (ESD), so they are the perfect packaging solution for sensitive electronic components. The self-seal flap of the ESD bags allows for quick and easy packing, while their lightweight feature will cut your shipping costs.
Our Aircap antistatic bubble bags are supplied in flexible, super-protective small bubble size and are available in 7 standard sizes from 100 x 135mm to 385 x 435 mm.
Packaging sensitive computer components, circuit boards and other delicate electronic products is not the same as packing regular items. Our anti static Aircap bubble bags eliminate electrostatic charges that may be produced during packaging and handling.

Manufactured from superior anti-static bubble film, our esd bags (electrostatic discharge) ensure the safety and protection of these fragile goods while they are in transit or storage.

The highly cushioned bubble bags are clean and strong as well, ensuring the quality and full protection of your products. Bubble pouches also safeguard the contents from moisture and dirt and are transparent for easy monitoring.

Our anti static bubble bags are ready to use in two simple steps: insert and seal with the self-adhesive flap which allows for faster packaging. Coming in 7 different sizes, our ESD bags can also be made into bubble tubes by simply cutting off the bottom.

Anti-static self seal bubble bags are the cheap and effective solution for packaging your computer components and other electronics.