Resealable Polythene Bags With Write-On Panel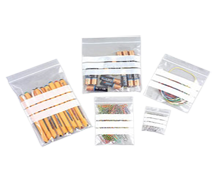 Make life simple by using our transparent polythene resealable bags with write-on panels that allow easy labelling, marking or identification. Available in 15 sizes, our flat grip seal bags also save you having to use heat sealers, twist ties or staples to secure the contents, and they are easy to open when required – and then reuse.
You'll avoid your goods suffering from contamination or leakage, and you'll keep them presented in an attractive, organised way in our resealable bags.
Our polythene resealable bags are ideal for a wide range of office, home and manufacturing packaging uses and applications. Whether for storage, display or transit, our plastic resealable bags with write-on panels are good for lightweight packing uses and they speed up labelling. No more hunting for stickers or labels and then having to attach them.

This clear resealable bag with a write on panel is ideal for lighter items. It is supplied in packs of 1,000 and is available in 15 different sizes as shown above, measured internally by width (opening) x length (grip seal to bottom of bag). Choose from grip seal bags measuring 1.5ins x 2.5ins (38mm x 64mm) to 10ins x 14ins (254mm x 355mm).
You'll find our resealable polythene bags with write-on panels are really worth paying that little bit extra. Ideal for high volume use, with discounts for bulk orders. Don't forget our marker pens.