Corner Protectors – U Profile Foam
Our durable, easy-to-attach corner protectors are available in 5 sizes to fit various thicknesses of items.  Made from non-abrasive U foam profiles, these blue foam corners provide instant edge protection to reduce damage to delicate or sharp corners during transit or storage.

The tulip shape fits them snugly onto the corners of furniture, shelves, boards, panes of glass, mirrors or pictures. Simply clip the corner protectors on, push home, and their self-gripping feature grabs the edge firmly. Our foam corner protection can be used in conjunction with our U profile edge protectors.
Our corner protectors are odourless, hygienic and chemically neutral. The material is totally recyclable. Non-scratch and flexible but firm, they are ideal for avoiding damage to or by the delicate or hard corners of a wide range of furniture and flat objects. The closed-cell structure of the blue foam corners provides durability and strength. They are quick and easy to apply by slotting them on and pushing into place, providing 360º protection. You can then wrap round with stretch film ready for transit or putting into storage. For side foam protection see our selection of
edge protectors
.
Our foam corners packaging is supplied in packs of pieces, all measuring 100mm on along the side (leg length) and with the following dimensions:
Dimensions (mm)
A
B
C
D
E
F
Per Pack
BLUEFOAM AB U25 CORNER
10mm
24mm
35
9
100
100
600
BLUEFOAM AB U35 CORNER
20mm
35mm
43
11
100
100
500
BLUEFOAM AB U45 CORNER
25mm
44mm
53
12
100
100
300
BLUEFOAM U60 CORNER
30mm
58mm
64
14
100
100
500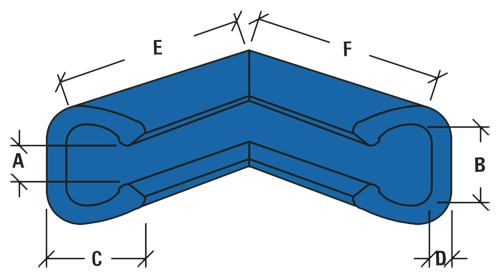 Corner protectors are a vital shipping or moving accessory. This ready-to use protective packaging will save both time and money.