Product Description
Our foam corner protectors are vital when you are packing items with corners that might easily be damaged or inflict damage. Offering 360º edge protection, they are made from odourless, hygienic and chemically neutral material with a closed-cell structure. They have a 30 x 58mm foam profile, with the edges measuring 100mm on each side.

Supplied in cost-effective packs of 500, they are non-scratch and safe to use on granite and marble worktops, fragile frames and valuable antique pieces of furniture. They can be used with our U or L shaped edge protectors for all-round edge protection.

Soft but pliable, our blue foam corners are easy to apply thanks to their U channel and tulip shape which clings firmly to surfaces. You can then cover your goods with stretch wrap ready for shipping or storage. These foam corner protectors, ideal for larger objects, are far more convenient than paper wadding or bubble film to clip on and push home on fragile or awkward corners.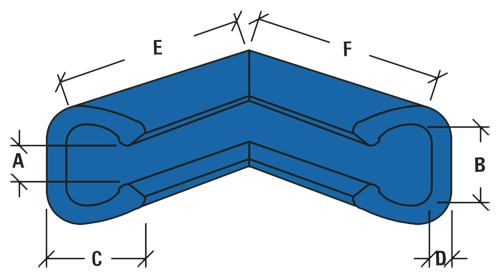 Dimensions (mm)
A
B
C
D
E
F
Per Pack
BLUEFOAM U60 CORNER
30mm
58mm
64
14
100
100
500
Features