Bubble Bags - Self Seal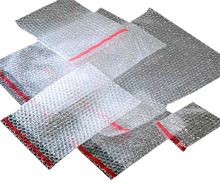 Specially designed with an easy self-seal feature, our range of transparent bubble bags is ideal for small or lightweight items that require protective cushioning from knocks and surface scratches. The ready to use bubble pouches also protect the contents from moisture, dust and dirt and being lightweight a bonus where shipping costs are concerned.

Using our reliable but cheap bubble wrap bags saves you valuable time too, compared with hand wrapping. Simply pop the item inside and seal. Our bubble bags come in 7 sizes so you can be sure there is one to suit your products.
All sizes of our bubble bags are made from small bubble-size bubble film, which is flexible, strong and has superior cushioning and protective properties. Bubble bags are perfect for protecting lightweight items. For packaging sensitive electronic or computer components, use our special antistatic bubble bags.

There's nothing more convenient than packing your individual packages using our bubble bags. They are available in 7 sizes from 100 x 135 mm to 385 x 434 mm, and if bought in bulk cost from only 3p. These cost-effective bubble bags have a self-seal flap, making packing a really quick and easy operation. And if you cut the bottom off your air bubble bag, you have a bubble tube which can be used in other packaging purposes.

Highly protective, air bubble packaging is popular with many industries thanks to its excellent cushioning properties which protect the contents from knocks and damage during transit and ensure goods reach their destination in top condition.

Save your time and money with the cost-effective bubble protection of our bubble bags and enjoy packing with ease and convenience.