Custom Printed Tape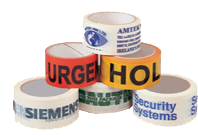 Custom packing tape not only markets your company, but enables customers to identify your parcels quickly, it's also a good way to alert handlers and customers if your products need special storage or handling. Messages such as "CAUTION", "HANDLE WITH CARE", and "FRAGILE" can be added to your brand name, helping safeguard your packages during transit. Printed adhesive tape is also a good way to provide tamper evidence as it's easy to see if boxes have been opened.
Custom packaging is one of the best marketing tools you can use, a cost-effective way to advertise your business while presenting your products in a professional manner which enhances the recognition and reputation of your company.
You can choose either polypropylene tape, available as economy, or premium quality vinyl packing tape - both available in 48mm & 72mm wide x 66m
Custom Packing Tape Specification Form
Please complete the form below to enable us to obtain all of the information required to provide you with an accurate quotation. Should you need any assistance at all, please do not hesitate to contact us on 01707 635353 and one of our team will be happy to help.
NB: There is a minimum order quantity of 72 rolls for 48mm tape & 48 rolls for 72mm tape.
Our customised adhesive tapes are a low cost alternative – or add-on – to our
custom made boxes
or packing cartons when it comes to establishing your name and promoting your products to your target market. Custom packaging tape is ideal for highlighting the name of your company, your logo, product lines and even website address. It's simple to have your company's details printed on carton sealing tape, just choose from any of our wide range of
adhesive tapes
, and sizes to fit our
handheld and desktop dispensers
. We will print to your requirements but do suggest a maximum of two colours on polypropylene tape and three for vinyl.
Custom packaging materials such as our custom printed tape are great marketing strategies for both new and established businesses. Inexpensive and efficient, our customised adhesive tape is an ideal custom packaging solution, promoting your products while ensuring their security and protection. Reinforce it with our custom packing boxes or use it as a competitively priced alternative.