Corrugated Paper Rolls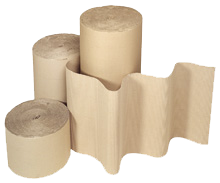 Our single faced corrugated paper is a general wrapping solution and ideal for safely packaging fragile items ready for shipping or moving. Entirely made from recycled material, corrugated packaging provides perfect cushioning and protection even to awkwardly shaped products. Supplied as a convenient 75m corrugated roll, this lightweight clean packaging is an economical means to shield your goods from damage.
Available in 8 widths, our flexible corrugated packing is excellent when used as a scrunchable void fill in packing boxes or as interleaving between products to protect their surfaces from scratches.
Corrugated paper rolls are great for hobby crafts as well.
Aside from general packaging applications, our corrugated sheeting is a perfect and affordable way to pack delicate household objects such as ornaments, vases and plates or electrical products, monitors and telephones.

Our corrugated wrap is really versatile: it is a great cushioning material to wrap around odd-shaped items or it can be scrunched into void fill, filling up empty spaces in your packages and providing extra protection. You can use corrugated paper to interleave between fragile goods and you can even make it into boxes. It is a low cost material and, being lightweight, the corrugated packing adds little to postage costs. An added bonus is that corrugated paper is an environmentally-friendly packaging solution as it is made from 100% recycled paper and can be recycled or used again.
We have 8 widths of corrugated paper rolls ranging from 300mm to 1500mm, all a useful 75m in length, to meet your varied packaging needs.