Mail Lite Bubble Envelopes - White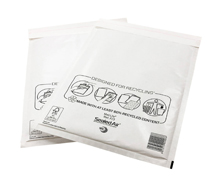 Choose our economy Mail Lite bubble-lined envelopes when you need to dispatch light to medium weight semi-fragile items such as DVDs, gifts and brochures.
These bubble envelopes, which come in 10 sizes, are considered to be the lightest and most economical for posting, yet they offer superb protective packaging and are resistant to tearing and punctures.
With an attractive exterior of white kraft paper, the mail lite bubble envelope has an interior bubble filling that functions like bubble wrap – a padding of small air pockets absorbing external shocks – to safeguard your parcels from damage.
Save on postage fees with our Mail Lite economy bubble mailers! From just 6p per envelope, the bubble lined envelopes are more space-efficient and cheaper to use than box packaging.

Thanks to their peal and seal feature, our Mail Lite mailers significantly reduce time and labour when packing because they are quick and convenient to parcel up. The secure self-adhesive strip also makes the bubble wrap envelopes tamper evident.
Labels adhere well to our Mail Lite bubble envelopes, or you can easily write on the white kraft paper exterior.