Product Description
These tulip-shaped edge protectors are the time-saving and efficient packing alternative to padding goods with bubble wrap or wads of paper. Additionally, they are cost-effective since they can be reused. They provide superior foam protection, being made from soft but very strong environmentally-friendly material with a closed-cell structure. Perfect for narrower items, they are supplied in 2m lengths measuring 8 x 16mm which can quickly be cut as required with scissors or a knife.  

The foam edge guards are easy to apply and mould around products, with the U shape giving a tight grip, even on slippery surfaces. You can also curve them around corners, or use them along with our individual blue foam corners which are tailor-made for corner protection.   

Since they are non-scratch and chemically neutral, our foam protectors are safe to put on delicate surfaces including antiques. They protect vulnerable edges from knocks during shipping or storage while also helping prevent hard edges from inflicting damage. Our edge protectors are resilient, odour-free and completely recyclable.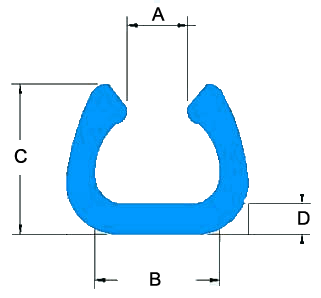 Dimensions
 
A
B
C
D
Metres Per Pack
Lengths Per Pack
BLUEFOAM AB U15
8mm
16mm
30mm
7mm
500
250
Features
Size:
8 x 16mm x 2m lengths (500 Metres Per Pack)