Trade Account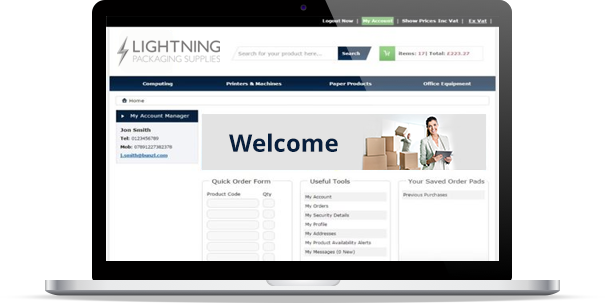 If your business needs packaging on a regular basis then our online portal, SELECT, is exactly what you need to help make ordering your packaging simpler.
Signing up with us is easy, and offers a host of benefits: (Click here to sign up)
SELECT lets you view your unique competitively priced catalogue based on the items you regularly order from us.

You will have dedicated prices tailored to your individual packaging requirements
You can view your order history to let you reorder simply, quickly and accurately.
You will be able to easily view your product usage to enable you to budget for future usage.
SELECT supports 24-hour order placement so you can order at a time convenient to you.
This simplifies the ordering process for you, and in turn the warehouse team can fulfil your order quickly and efficiently.
You can track the status of your order.

You will have your own dedicated account manager for that personal touch
You will have free deliveries with our own fleet of vehicles / dedicated couriers.
An annual free audit of your packaging requirements and associated activities, such as storage and deliveries, with the view to keeping costs down and making you as eco-friendly as possible
---
Peace of Mind
In summary SELECT is secure and offers all you'd expect and more with an online catalogue with product pictures and descriptions coupled with a fast ordering process and the ability to track your order.
You are invited to join us today and have your own SELECT account.
To apply, please complete the short enquiry form below and one of the team will contact you to discuss your requirements or email enquiries@lightningpackaging.co.uk
---