Polystyrene Egg Hatching Boxes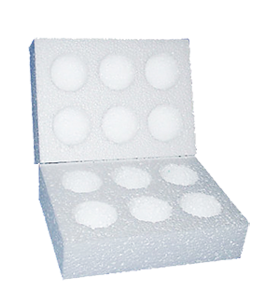 Our expanded polystyrene hatching boxes are tailor-made to send eggs via the post with minimum breakage. Unlike the cheaper alternatives, usually manufactured from flat sheeting which gives eggs flat bottoms and straight sides, our egg postal boxes have soft and curved bottoms specifically designed to provide superior protection.
We have egg packing boxes for all your needs, just choose from small, medium and large boxes for hatching eggs. Thanks to the consistent high quality of our well-constructed egg packing, the quality of your eggs is also ensured while in transit. They are kept in place, nestled in padding that prevents any movement.
Our lightweight packaging for eggs ticks all the right boxes when it comes to shipping your precious hatching eggs. There's no need to worry as our padded and shaped egg postal boxes not only stop your eggs from shifting and safeguard them from bangs and knocks, but also provide the ideal insulated environment for eggs in transit

The polystyrene in our hatching boxes is a superb insulating material which maintains the eggs' temperature and shields them from extreme hot or cold as well as moisture. Being made of low-density polystyrene, our egg packaging has a superior resistance to impact than higher density polystyrene packing or foam and keeps its shape and strength for longer.
It will pay you to use our superb polystyrene hatching boxes, whether for large, medium or small eggs. Our egg postal boxes take 6 eggs and come in packs of 20. They are simple and safe to use and can be sealed with one of our
adhesive tapes printed with 'fragile'
.
Our polystyrene egg hatching boxes also make the ideal base filler for garden pots, being lightweight and saving on compost.